Dad / Grad gift ideas and Snoopy giveaway
June 6, 2013 in Best of Both, gifts, Giveaway by MyBestofBothWorlds
Need some Dad / Grad gift ideas and Snoopy giveaway too? Then keep reading as My Best of Both Worlds is thrilled to be partnering with Melanie from Game On Mom. Make sure to stop on by her blog as she's a mommy sharing her thoughts on beauty, technology, & fitness/health with some reviews and giveaways thrown in!
Who doesn't just love the Peanuts gang? We are big fans of Charlie Brown, Snoopy and all the gang here at our house. Check out all the Peanut relaated fantastic ideas for the special people in your life.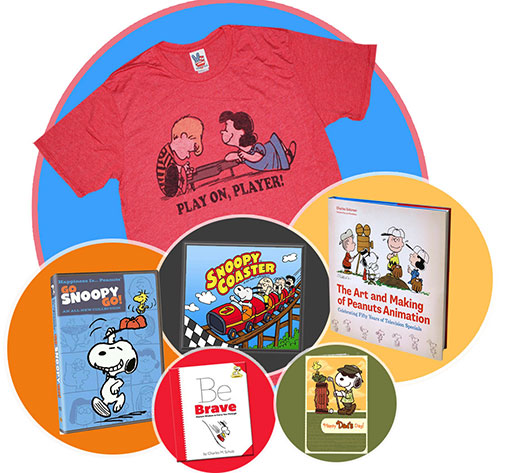 Happiness is…Peanuts: Go, Snoopy Go! DVD. America's favorite pastime only gets better when Peanuts gang hits the field in the TV special It's Spring Training, Charlie Brown. The first game of the baseball season is coming up, but Charlie Brown's team doesn't even have uniforms. Can their new player, little Leland, help them reach a big victory? The antics continue in The Charlie Brown & Snoopy Show. $14.97, Available at wbshop.com.
Be Brave; Be Kind. Featuring Charlie Brown, Snoopy, Linus, and the whole Peanuts gang, Be Brave: Peanuts Wisdom to Carry You Through provides encouragement when facing new experiences by pairing the characters with appropriate inspirational messages ("Be Ambitious" and "Be Innovative"). In Be Kind: Peanuts Wisdom to Carry You Through, the Peanuts gang and their characteristic values ("Be generous," "Be compassionate") remind us to keep others in our thoughts. $7.95, Available at Amazon and other major book stores.
Hallmark Greetings. Whether thru snail mail or email, Hallmark has just the right Peanuts card for every occasion. Available at Hallmark.com,Ecard subscriptions $12 per year, cards $2.49 & up.
Snoopy Coaster. Take a thrilling ride with Peanuts in this iOS mobile and tablet app. Leap from track to track and collect coins as Snoopy, Charlie Brown, Linus, Lucy, and Peppermint Patty speed along the wildest rollercoaster in the app store. Grab trading cards featuring original Peanuts artwork, and collectibles to unlock classic Charles M. Schulz comic strips. This game from the creators of Angry Birds is sure to be a hit with kids of all ages. Available in the iTunes store for $.99.
The Art and Making of Peanuts Animation: Celebrating Fifty Years of Television Specials. This deluxe visual history treats Peanuts fans to an in-depth look at the creation of the beloved animated Peanuts specials, from 1965's classic A Charlie Brown Christmas through 2011's Happiness is a Warm Blanket. Animation historian Charles Solomon weaves a rich history with gorgeous, never-before-seen concept art, and dozens of interviews. $45, Available at Amazon and other major book stores.
Junk Food Tees. Wear your heart on your sleeve with these soft cotton tees, featuring a fresh take on your favorite faces. (How about "Call a Doctor Cuz I'm the Illest" for that sure-to-play-hooky college freshman?) $17-34, Available at junkfood.com
Always heartwarming and humorous, Snoopy and his pals have helped to create many happy memories for kids of all ages. Any Peanuts fan is sure to love these gifts, and they're just right for graduations and Father's Day. Let's celebrate these important occasions with a little Snoopy love! I can't think of a better way to do it, can you?
Enter to Win! THREE lucky readers are going to win this fantastic Peanuts Prize Pack (ARV $90)! Giveaway is open to US residents who are 18 and older. Ends 6/12/13 at 11:59 PM EST. Good Luck!
Disclosure: My Best of Both Worlds did not receive any financial compensation for this post and is not responsible for prize.  I just like to bring readers fun giveaways with cool prizes!